Reading Upfits
---
You don't cut corners in your work, and you need a truck body built to the same high standards. After all, you can't deliver on your promises if your truck doesn't deliver for you.  For 60 years, Reading has focused on a single goal: to build high quality work truck bodies specialized to meet vocational needs. That's why contractors and fleets that want the best work truck for their money choose Reading truck bodies.
View Reading Trucks
---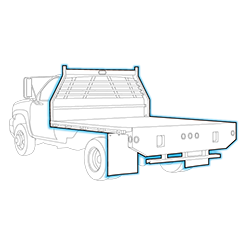 Reading Platform Body
Our platform and landscape bodies feature rugged, reinforced steel understructures and a range of platform and side options to suit your business. They make heading out over any sort of terrain easy and offer rugged durability for your landscaping or construction business. You'll find a range of configurations designed to meet your needs and make your job easier.
View Reading Platform Body Upfits
---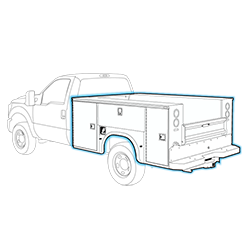 Reading Service Body
With industry-leading standard features and exclusive options, you can customize a steel or aluminum Reading service truck body to take your workshop on the road. Don't get stuck looking for space to store and transport all of the tools and materials you need out in the field. Instead, choose the service body that best matches the way you do business and benefit from the flexibility we pack into every body we build.
View Reading Service Body Upfits
---
Reading Service Utility Vans
Our steel and aluminum enclosed bodies offer all the benefits of a standard service body plus a secure, sheltered work area so you can keep on working rain or shine. This is a popular choice for those of you who can't let the weather dictate when you work, so check out our selection of work truck bodies with enclosed spaces and equip your business for any job out in the field and out on the road.
View Reading Service Utility Vans
---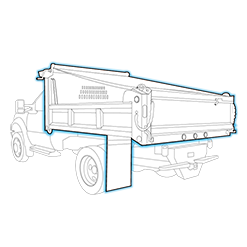 Reading Dump Body
Tough enough to handle whatever you throw at them, our dump bodies come loaded with standard features and the best warranties around. We include rugged metal construction, powerful hydraulics and rust-resistant finishes to ensure you get years of reliable service out of your dump body. You can even select the type of gate you want for the perfect custom solution.
View Reading Dump Body Upfits
---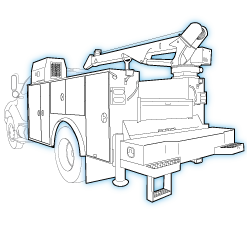 Reading Mechanics Truck
Our heavy-duty Master Mechanics™ Series bodies are available in two basic platforms, Service Bodies and Crane Bodies, with design and manufacture focused on withstanding the harshest environments and most demanding applications in field use while providing the user with the highest quality, most user friendly, versatile, functional, and safe body available.
View Reading Mechanics Trucks